Career Opportunities in Commercial Pilot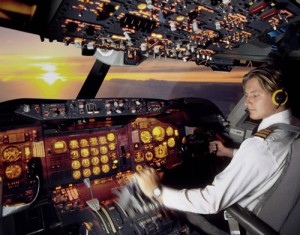 A commercial pilot career is an exciting and challenging profession.? Professional pilots are highly trained and entrusted with a great deal of responsibility. Commercial Pilot is highly rated and one of the most adventurous career which requires intensive training. The profession of a commercial pilot has a special inscrutability attached to it. Pilots are highly trained professionals who fly airplanes and helicopters carrying passengers or cargo.
Throughout the flight journey, the commercial pilot receives a steady stream of information which needs to be interpreted, all the while maintaining contact with air traffic controls.? An occasional message to the passengers, keeping them informed about flight conditions can be very reassuring. Usually one or two junior co-pilots accompany the pilot depending on the duration of the flight.
Commercial pilots are employed by national airlines. Being a commercial pilot is not very difficult and the demand for pilots due to the growth of regional airlines and corporate aviation travel is making this a great opportunity. This commercial pilot profession demands a lot of time, dedication, patience and sacrifice.
There are a number of institutes under the recognition of the Directorate General Of Civil Aviation which conducts training in the pilot training field. The eligibility for the career in a commercial pilot job, the candidate must have minimum academic qualification to enroll for an SPL is 10+2 with Physics and Mathematics and must qualify an entrance exam. The minimum age for joining a flying club is 17 years. Must acquire a Private Pilot?s License (PPL) that requires 60 hours of flying experience of which 20 should be solo flying and 5 cross country by taking an exam conducted by DGCA consisting of theory papers on air navigation, aviation meteorology, air regulation and technical aspects.
The commercial Pilots must undergo rigorous training in skills such as navigation and cockpit instrumentation, and they must accumulate many hours of flying experience. And the pilot need a Multi-Engine rating because most paid commercial pilot positions are flying airplanes with 2 or more engines.
Most airline commercial pilots work their way up through small, regional carriers, retaining the flexibility to relocate in order to jump on opportunities. The commercial pilots has lots of opportunities in his pilot career as:
Traffic Pilot:
Air traffic reporting pilots often work for television stations, radio stations, or traffic reporting companies that make the information available to others. On occasion, an air traffic reporting pilot may be asked to assist government or law enforcement agencies with the condition that the pilot is not put at personal risk.
Freight Carrier Pilot:
An Air freight or cargo pilots fly aircraft for companies which are loaded with any number of items which includes shipments of packages, mail, food, machinery, and anything else that needs to be transported via air.
Helicopter Pilots:
Helicopter pilots are engaged in monitoring traffic, gas pipelines, oil and gas exploration, for rescue operations, emergency medical transportation etc. The demand of helicopter pilot is rising constantly with the usage of increasing number of helicopters with political leaders, film stars and other VIPs. Helicopter pilots provide a wide variety of services for private businesses and various government bodies. Helicopter Pilots can easily be employed by commercial organizations, public Sector organizations and other security/ protective agencies.
Agricultural pilots:
An agricultural pilot is very common in US and European countries but it is new in some of the Asian nations like India. An agricultural pilot is one who flies the specially designed airplane or helicopter to dust seeds, herbicides, fertilizers, insecticides on crops, orchard, forest, field or swamps. They generally fly at low levels with heavy loads.? Agricultural pilots need to wear special gloves and mask as their task is to spray chemicals that may prove harmful to human beings.
Charter or Corporate Pilots:
A corporate pilot flies to help business and corporate aviation flight departments. Corporate or charter pilots may conduct flights carrying medical passengers to larger centers for emergency treatment, operating flights for business customers to meetings or to haul important freight to a customer's destination. These flights could be within country's border or sometimes, overseas.
Photogrammetry Pilots:
Photogrammetry pilots are the trained professionals who fly airplanes to take photographs of different locations on the earth. These photographs help in mapping and in other photogrammetric purposes. Career as a photogrammetry pilot may become popular in the coming times.
Outfitter:
Outfitters are the pilots who take tourists to exotic locations or supply food and other essentials to the people living in remote areas or people who get affected by any disaster, such as floods, earthquakes etc. Outfitters must hold enough experience in operating an aircraft alone. The outfitters pilots should have high degree of adaptability, self reliance and sole handling of problems since they fly in remote areas. It is necessary for an outfitter to be well versed with swimming skills and evacuation of people from crisis situation.