Career Opportunities in Horticulture and Floriculture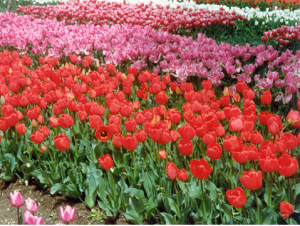 Over the years with the increasing demand for fresh and hygienically packaged fruits, vegetables and flowers created new challenge to increase the demand for career in horticulture and Floriculture fields. Horticulture and Floriculture has grown from a kitchen-garden kind of activity into an organized area of agriculture. The work in horticulture and floriculture covers growing and maintaining horticultural and floriculture farms, parks and gardens, plant pathology,
Horticulture encompasses the art, science and technology of production, utilization and distribution of fruits, vegetables and nursery/floral crops throughout all facets of our society.
Floriculture is the cultivation of flowers for commercial purposes. In Floriculture one is required to take up research on developing improved, disease-resistant and high-yielding varieties of flowers Floriculture includes cultivation of flowering and ornamental plants for sales or for use as raw materials in cosmetic and perfume industry as well as the pharmaceutical sector.
To become horticultural and Floriculture professionals graduates must have effective technical and scientific skills as well as the communication, leadership and interpersonal capabilities necessary to function. In the area of Research, horticulturists should improve for the breeds of new varieties of fruits and vegetables or flowers, by the application of scientific techniques.
The Horticulture Technology curriculum provides students with the general education and technical skills to meet the demand for employment opportunities in Landscape, Golf Course, Grounds Maintenance, Urban Forestry, Floriculture and Garden Center businesses.
The eligibility criteria for a career in horticulturist and Floriculture, a candidate should join the agricultural stream for a B.Sc. in agriculture or horticulture who has passed 10+2 with science streams including Physics and Biology. For further career as M. Sc. in Horticulture, one must have a B.Sc. degree in Agriculture or a related subject.
The duration for the horticulture and floriculture career are available at 2-5 years duration, depending on the course.
Horticulture and Floriculture career provides a wide variety of jobs for many categories of people, directly or indirectly. The horticultural science major may lead to management positions with garden centers, retail florists, roadside markets, landscape firms, and golf courses.
Graduates may find jobs as sales representatives with horticultural equipment firms, plant suppliers, and chemical supply companies.
There are also opportunities in Teaching and Advisory Services which would include motivation of fruit growers, and liaison with marketing agencies within the country and abroad.