Career Opportunities in Hotel Management
With increasing globalisation, career opportunities in Hotel management which is a linked to the tourism industry the demand for well trained quality personnel too has grown impressively. Hotel management career is a glamorous profession which has a bright future. Today, the rise in corporate activity as well as the wish to travel on holiday has made the hotel industry a very competitive one.
The diversity of experience in hotel management is greater than in any other profession. Hotel management professionals work as management, food and beverage service, housekeeping, front office operation, sales and marketing, accounting. Considering hotel and management career is a better option to have brighter and productive future.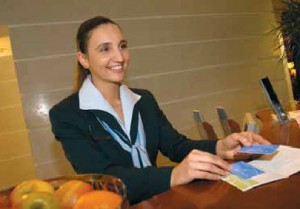 In the career of hotel management one can have the edge to get into the managerial positions with right qualifications. With advanced training and specialized skills development the hotel management career will be successful.
The eligibility criteria for admission into the hotel management course is minimum 10+2 for a 3 year programme into Bachelor of Science (B.Sc.) in Hospitality and Hotel Administration. For Master of Science (M.Sc) in Hospitality Administration, which is a 2 year Programme eligibility is 50% marks in B.Sc (H.M) or 3 year Diploma in H.M. with Graduation.
The hotel management professionals need to possess skills such as attitude and aptitude for service, patience and perseverance, ability to maintain cool and composure even in adverse conditions and hence ability to work hard is very important for success in this career.
There are several career opportunities available for aspirants who have accomplished their graduate level degree in hotel management. One can get placement in different categories of hotels such as :
Management Trainee in Hotel and allied industry
Guest/ Customer Relation Executive in Hotel and other Service Sectors
Kitchen Management/ House keeping Management Trainee in Hotels
Flight Kitchens also offer opportunities for career building
Executive multi skilled in Fast Food Chains
Hospital and Institutional Catering Executives
Faculty in Hotel Management/ Food Craft Institutes ( after earning industry work experience)
Cabin Crew in National and International Airlines
Catering Officer or Chef in Cruise
Marketing/ Sales Executive in Hotel
Executive in Tourism Development Corporations and Resort properties
Self employed entrepreneurs
Airline Industry is also a good option for the hotel management students. One can join as an Air Hostess and Flight Stewards. Some of them can also join as ground Staff or as Public Relationship officers. There is a training program for employees.
Retail sector has a wide range open for hotel management graduates. It includes PVR, Malls, Back Office jobs, joining as receptionist in corporate offices, Hospitals and BPO industry.
Teaching can also be option; they may join one of the IHMs or private colleges.
Another option is Opening Own restaurants or working as consultants for building up hotels or restaurants. They can also have their special decoration for themed parties as contract.
Hotel management is a rewarding career and compensation packages are very good in this field. The income of hotel managers depends on their job responsibilities and the kind of companies where they are working.