Career Opportunities in Nursing
Nurses are consistently in high demand. A nursing job will allow to assist physicians in clinics, emergency medical centres, and ambulatory surgical centers. Nurses are responsible for giving injections, medications, assist with examinations, minor surgery, dress wounds and incisions, maintain records and assist with minor surgery.
There is no direct career path in nursing, because the field of nursing is so broad, there are many options to explore. A registered nurse might remain a registered nurse for his entire career, but he also has the option of working within many different departments or even specializing within a particular medical field.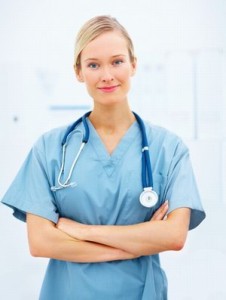 Hospital nursing jobs are usually assigned to one department, such as surgery, intensive care, treatment of patients with a specific illness, emergency room, caring for newborns, etc.
The job you can do will depend on your nursing degree. A degree in bachelor of science is required to pursue an advanced degree in nursing, which prepares the nurse for the roles such as nurse educator, nurse practitioner, clinical nurse specialist, nurse midwife, nurse anesthetist, nurse administrator, and nurse researcher.
A licensed practical nurse (LPN), also known as a licensed vocational nurse (LVN), is one with the most limited career choices. The primary responsibility of an LPN is to provide bedside patient care, which might include assessing vitals, dressing wounds and administering medication. LPNs can work in a variety of clinical settings, including hospitals and office practices.
An advanced practice nurse (APN) is a registered nurse who chooses to further her education and obtain a master's degree in nursing. Advanced practice nurses are considered expert clinicians, and they specialize in a particular field of nursing. Nurse anesthetists, nurse practitioners, nurse midwives and clinical nurse specialists are all APNs. These nurses are certified by the national organizations that govern each of their specialties.
Nurse Midwife (delivers babies): The Nurse Midwife provides care for low risk women/family before pregnancy, during pregnancy, through the childbirth experience, and after delivery.
Clinic/Office Nurse: Provides patient care in settings such as, physician offices, surgicenters, and medical office buildings. Responsibilities include preparing patients for examinations, wound care, injections, and clerical duties.
Clinical Nurse Educator: Responsible for staff development, program evaluation, in-services, New Graduate Nurse Orientation, staff competencies, Quality Improvement Assessment/Plan Development, and assessment/evaluation of regulatory compliance.
Clinical Nurse Specialist: The clinical nurse specialist is a BRN certified RN who is an advanced practice nurse providing expert clinical practice, research, education, consultation and clinical leadership with an identified patient population. Clinical nurse specialists work in direct patient care and indirect patient care activities that affect a broad range of patients.
Critical Care Nurse provides care for critically ill patients in a highly technical and ongoing monitoring environment, and supports the family during the crisis. Evaluates the need for resources and recommends referrals as indicated. This role requires specialized training and the ability to assess and recognize subtle changes in a patient's condition.
Trauma Center Nurse are responsible for the care of patients ranging in all ages, presenting with a benign or an acute critical illness, such as a heart attack. This type of care and environment requires quick thinking, and excellent interviewing and physical assessment skills. RN's in this environment use a triage process to establish priority setting.
Flight Nurse: Delivers patient care on board a helicopter or airplane. Flight nurses provide continuous patient care while in-flight to transport patients from one medical facility to another and from emergency or trauma scenes. These flight Nurses manage patient care during airlifts and brief medical providers at the receiving medical facility on the patient's status.
Forensic Nurse: Requires additional training. This role integrates clinical nursing, law enforcement investigation/interviewing, and counseling skills.
Nurses who earn a PhD. in nursing have obtained the highest level of education in their field. PhD nursing programs prepare nurse researchers and scientists to better address the health care needs of individuals and their families. PhD. Nurses are often more focused on academic and research rather than direct patient care, and they are usually affiliated with teaching hospitals, research facilities and universities.
The skills required for acquiring career in nursing is to cope with human suffering, emergencies and other stresses, nurses need emotional stability. Nursing career includes all the various disciplines, degrees and specialties to enable you to identify career opportunities that match your education, training and preferences.