Computer Safety Tips
Using a computer is not generally thought of as being one of the most hazardous activities. While the internet serves as a wonderful educational tool, it is an unregulated one and teachers, parents and children should be aware of the inherent dangers of using the world wide web. Computer safety protects you and your computer.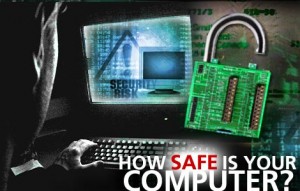 1. If a hard drive runs when no-one is using the PC, then the machine isn't doing anything, be suspicious. Unusual hard drive or modem activity can be a sign that spyware is operating on a PC, or that a hacker has gained access to the system. Another sign of a possible hacking attack is a computer mouse that appears to have a life of its own.
2. A computer will freeze-up if there is a bug or virus infected in the system. These can be contacted as easy as opening an email or visiting a website. Find out that your wallpaper, homepage, internet settings, or any of your personal settings have not been altered.
3. Make sure the computer?s operating system has all current security updates. Another common problem among new arrivals is the neglected OS.
4. Check your programs in the "Add/Remove Programs" section of the Control Panel folder. If anything looks suspicious, look it up on the internet or another computer to investigate it. They will tell you if it is important or to delete it. If unsure, leave it. Search to find any programs installed in the time frame since problems were occurring. Usually it would be an application. If found, repeat previous step.
5. Using your System Configuration Utility, go to the Startup tab and uncheck any box that you are sure you don't need. You may need to consult a professional.
6. Update all antivirus software and install. You should check for new definition updates daily. Most antivirus software can be configured to do this automatically. Regular virus scans and security updates will help protect their data.
7. Defrag and run Scandisk to find if there is a bug or virus. If your computer still freezes perform system file checker, replacing any corrupt files, update internet browser, or add RAM memory.
8. Be aware of fake pop-up window that looks like an ordinary pop-up, which is actually an image. Clicking anywhere on the image will activate a link, which often leads to you inadvertently downloading spyware. Fake pop-ups rely on user habit. You see a pop-up window, so you close it by clicking the X button. Because the X button is part of the image, you activate the link. Watch the mouse pointer. If the pointer still looks like a little hand over the X button, the pop-ups a fake. If it looks like a pointer, it's a real pop-up.
9. Passwords are difficult to remember, so we use one password online for everything. Avoid this. If someone discovers one of your passwords, they've got all of them, and all you can do is hope they won't figure that out. Use a different password for every single email, online shop or other service that requires a password.
10. Avoid opening email attachments received unexpectedly no matter who appears to have sent it. Remember that most worms and trojan-laden spam try to spoof the sender's name. And make sure your email client isn't leaving you open to infection. Reading email in plain text offers important security benefits that more than offset the loss of pretty colored fonts.
11. Do not give personal information to anyone online that you have not verified or trust completely. Do not buy on or give credit card information to a website that you do not know. When in doubt, call and talk to a person to make a purchase.
12. Make sure your home network is secured. Connect to networks that you know and trust. While connecting to an open network may give you free Internet access.