New Trends in Corporate Training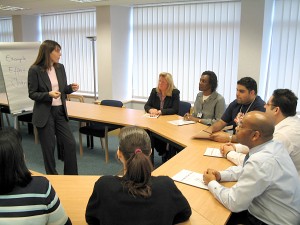 It is a fact that the corporate training market is inactive but it is an ever evolving new trends in market dynamically that requires professionals and suppliers to stay alongside each other for innovating the best practices to stay in competitive world. And most of the corporate people are competing for a share of the wallet of corporate training organization since the availability of state and federal government grants to fund for corporate training programs are reducing.
Learning new trends for performing professionalism in their corporate work people have learned to become more productive with less resources available. They have acknowledged the real importance of informal learning networks such as most of the corporate learning takes place outside of formal classroom settings and online courses. Recognizing the importance of coaching, mentoring and online social networking the corporate companies are looking for creative and effective ways to use new technologies and new trends in their training
programs.
But these days, spending huge investment in corporate training is a challenge, but it?s worth since businesses struggle to stay in the competitive global marketplace, they require to regulate new trends in talent management strategies including how they approach training. The corporate companies reduces the fixed resources and staff while minimizing the variable activity associated with development and delivery of training. Most of the new spend will be on variable costs; courses, contract labor, etc.
New technologies for corporate training are changing how people learn. Companies are becoming much more focused on providing employees and customers greater access to content in smaller increments of information. With the help of online training, it requires the use of technologies in a different way such as access is through learning portals, where the LMS is a plug-in to the portal many advanced automation technology is increasing demand for skills and craft training.
Another trend a corporate company should consider an increasing number of employers since it encourages ?attitudinal shifts? in how employees view training and development, so they can ?embrace lifelong learning,? acquire new skills as business and client needs change, and developing Web-based modules that enable employees in different countries to get involved in training together and give time for them in their busy schedules for training.
By incentivizing the corporate learners with new trends of training activities making them in participating in the performance of management and promotions, teaching in a virtual environment offering training on reputation management, understanding the needs of a new generation of learners, and focusing more on training that covers ethics, interpersonal communication, skills for new managers, and refresher skills for longtime managers.
As the supply chain for training services is changing since the training companies are buying from other training companies with comprehensive outsourcing companies tying up with smaller training. Partnerships between suppliers to integrate solutions are becoming commonplace so corporate training functions are perfectly positioned to drive strategic alliances with other training companies to deliver these training services.
Most of the corporate companies are spending for the ways of new trends on customer training than on employee training. So Corporate training executives are focusing more on content management, how to manage content effectively, providing relevant just in-time information for the best value.
To stay in competitive world the corporate companies must follow the new trend of training norm to lean which is a high quality of delivering at high value with little waste of time. But for this we must use the tools we have been teaching to our clients.? Being a low cost provider does not have to mean being a low quality provider. We have to raise the bar on quality of services.