Srihitha Technologies provides seo training in Ameerpet, Hyderabad by real time Experts. For seo training information contact 9394799566 / 9246599566.
Do you have these Questions in Mind ? -? what is the need of SEO training ?? What is seo ? will i get a job after doing seo course? what is the future of seo ?? do i need to have coding knowledge to learn seo course ? Then read the below Information given below or contact srihitha technologies training center in Hyderabad.

Many website owners have little knowledge?about SEO (search engine optimization), which means they often get an unoptimized website that never shows up top rankings in search engines like Google / Yahoo/ Live search results.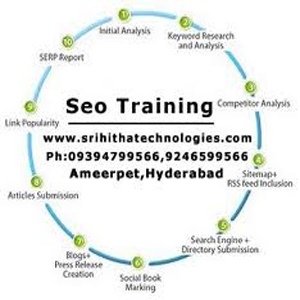 If you are a web developer or web designer, wouldn't you like to offer SEO services to your clients? . Any of your client will be annoyed when they learn subsequently that their expensive website is useless for search engine rankings.
Seo consultants earn approximately $ 1000 for a small project and $ 100000 for a bigger project in countries like USA and Australia. There are many job opportunities for seo consultants in india. Earnings depends upon the client you are targeting and your experience.
If you are a resident webmaster for a company or? organisation, learning seo will help you to make changes to your website to make it seo friendly.
If you are a student completed your graduation or Post graduation and looking for a job in SEO industry, this is an opportunity to learn a lucrative new seo skill.
Srihitha Technologies? seo training institute in Ameerpet, Hyderabad provides seo training on real time projects. All seo students works on live projects. we provide 100 % placement assistance after completion of the course.? we can show you the list of seo students placed through our institute. Come to our institute to talk to our Previous students.
seo course content is based on latest SEO service delivery experience. srihitha technologies training faculty? managed many seo projects and also works as a consultant for Abroad Clients.
srihitha technologies? seo trainer teaches professional grade SEO best practices, up-to-date techniques,? seo training is customised to the needs of each group of students.
for more information about opportunities in seo. Please contact srihitha technologies seo training institute in? Ameerpet, Hyderabad? which offers seo training by real time experts.
Address:
srihitha technologies,
b7,3rd floor, eurekha court, near image hospital, ameerpet, hyderabad.
Phone Number: 9394799566 / 9246599566