What is SAP and its Features
What is SAP and its Features
The original SAP idea was to provide customers with the ability to interact with a common corporate database for a comprehensive range of applications. Gradually, the applications have been assembled and today many corporations, including IBM and Microsoft, are using SAP products to run their own businesses.
SAP is an Enterprise Resource planning (ERP).SAP defines business software as comprising enterprise resource planning and related applications such as supply chain management, customer relationship management, product life-cycle management and supplier relationship management. It consists of many modules to plan the business strategy. It provides support to HRM, Financial management.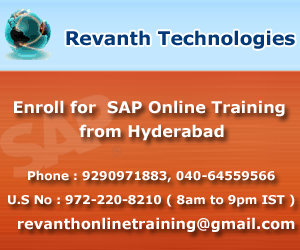 SAP applications, built around their latest R/3 system, provide the capability to manage financial, asset, and cost accounting, production operations and materials, personnel, plants, and archived documents. The R/3 system runs on a number of platforms including Windows 2000 and uses the client/server model. The latest version of R/3 includes a comprehensive Internet-enabled package.
SAP's products focus on Enterprise Resource Planning (ERP), which it helped to pioneer. The company's main product is SAP ERP. SAP is the one of five major enterprise applications that makes up SAP's Business Suite.
The four other applications are:
* Customer relationship management (CRM):
CRM helps companies acquire and retain customers, gain deep marketing and customer insight, and align organization on customer-focused strategies.
* Product lifecycle management (PLM):
PRM helps manufacturers with a single source of all product-related information necessary for collaborating with business partners and supporting product lines.
* Supply chain management (SCM):
SCM helps companies enhance operational flexibility across global enterprises and provide real-time visibility for customers and suppliers
* Supplier relationship management (SRM):
SRM helps customers to collaborate closely with suppliers and integrate sourcing processes with applications throughout the enterprise to enhance transparency and lower costs.
Most people are realizing that SAP solutions have become extremely important to such businesses as international businesses. Since the companies can overcome wastage of time by using the right SAP system that suits your business environment or even customizing it. It?s best to get a SAP Consulting expert that will help you figure out what specific system your company will need to virtualize your office system.
For Sap Online Training in india visit http://www.revanthtechnologies.com/index.php