Benefits of Green Tea for Health
There are many health benefits of green tea have been well documented in recent times. It was first Chinese who used Green tea as a traditional medicine to treat many ailments and to improve general well-being and later considered as a beverage. Green tea extract is an extremely versatile herbal supplement as it is produced from the dried and steamed leaves of Camellia sinensis.
Green tea acquires a prestigious place among soft beverages and it is one of the foremost things that come to the mind when the topic is anti oxidants. Green Tea is benefited in creams, taken as a in the form of a pill or incorporated into your diet and drunk as a tea. It has many beneficial properties which promote good all-round health with little or no known side effects and for the price, it's definitely a herbal treatment that?s worth trying. Green tea is the best food source of a group called catechins. In test tubes, catechins are more powerful than vitamins C and E in halting oxidative damage to cells and appear to have other disease-fighting properties.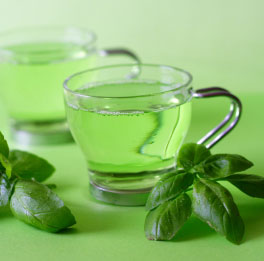 Green tea is unfermented, made of freshly harvested leaves which are rapidly steamed or pan-fried. This minimal processing preserves more antioxidants than black or oolong teas. White tea is the least processed of the teas and the highest in antioxidants and nutritional value. Asian countries like Japan and China are the biggest producers of green tea In many parts of eastern India, green tea extract is commonly sold in many forms.
Green tea is simple to make and inexpensive compared to the health benefits to build your immune system. Green tea reduces the risk for heart disease by reducing stroke risk with regular intake, protects against coronary artery disease, atherosclerosis, high triglycerides and hypertension.
The green tea benefits health as a blood thinner, risk of brain damage, and speedy recovery from heart attack. Green tea may also be useful as a treatment for high LDL cholesterol, protects against some cancers.
?Green tea benefits in a natural method of controlling blood sugar levels, prevents gum disease and cavities because it acts as an antibacterial, and green tea leaves contain fluoride, a substance known to prevent cavities. Green tea can even help prevent tooth decay
When green tea drunk after a meal it helps in digestion and to detoxify your system, getting rid of the toxins that can cause acne. People who regularly drink green tea do not fall victim to common bacterial and viral infections easily.
Green tea benefits for health in preventing and treat bone loss and osteoporosis as well as the traditional therapy of calcium and exercise. Additionally, regular consumption of green tea by elderly women resulted in the preservation of hip structure.
The combination of caffeine and catechins in green tea may boost metabolism and burn fat. The free radicals created in body are responsible for corroding the body, i.e. for ageing and the related symptoms. Regular consumption of green tea can effectively delay symptoms of ageing and is one of the natural solutions that helps you to get rid of your skin wrinkles.
Green tea benefits to burn extra calories and then combined?? with caffeine augments the calorie burning. It increases the energy that is expended, helps to oxidize fats.
The anti oxidants in the green tea are ensures the liver is protected against toxins present in cigarette ad alcohol. Green tea is said to prevent the HIV from getting bound to the healthy cells of your body with ease.
Green tea can helps in the growth of new hair and may prevent hair fall, since it contains panthenol, vitamin C and vitamin E. Vitamin E rejuvenates dry or damaged hair whereas vitamin C protects against the UV radiation damage. Green tea can soothe scalp problems like dandruff and psoriasis by healing skin and treating the issue of inflammation. A shampoo with green tea as one of the ingredients may bring satisfactory results. You may also use a green tea rinse after applying shampoo. This way, you can soothe scalp irritation.
So make sure while preparing green tea, that you allow the steeping process to take place in well boiled water. This extracts maximum medicinal benefits of green tea.