Career as Veterinarian
As animals are progressively considered as a member of the family, so pet owners will be more concerned to spend on health care of them providing treatment from advanced veterinary care, creating more demand for vets. Veterinarians tend to the medical care needs of animals, such as pets, cows, and zoo and laboratory animals. Most veterinarians work in private treatment centres like clinics identify diseases and perform medical procedures.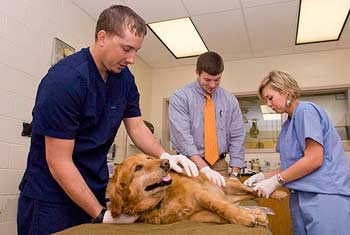 Job Description:
Veterinarians in clinics identify animals health problems; vaccinate against illnesses, such as distemper and rabies; cure animals being affected from infections or illnesses; treat wounds; set fractures; perform surgery; and advise owners about animal behaviour, and breeding.
In towns, veterinarians may use innovative technology, surgery, and precautionary actions to care for pet animals. In the villages, veterinarians are sought after for their ability to identify and cure animals that keep business running.
Veterinarians who provide treatment to animals use medical devices, such as stethoscopes; surgical instruments; and diagnostic devices, such as radiographic and ultrasound examination devices. Veterinarians working in research use a wide range of innovative laboratory devices.
Veterinarians also specialized in varied categories like in food safety and inspection, research veterinarians who do research on human and animal health conditions, equine veterinarians who treat horses
and food animal veterinarians who diagnose farm animals.
Eligibility :
A veterinarian should obtain a degree of Doctor of Veterinary Medicine D.V.M. or V.M.D. from an accredited college of veterinary medicine. Therefore, a bachelor's degree or significant undergraduate coursework is the typical basis for admission to the 4-year Doctor of Veterinary Medicine degree. Hence a qualified veterinarian must be trained and licensed based on the requirements of their state.
To be successful veterinarian, one needs to have certain qualities that cannot be learnt from schools. A good veterinarian should have compassion, both towards the animals they treat and their owners. Should have excellent decision-making skills to assist in choosing appropriate treatment methods. Good interpersonal skills are also required for communicating with animal owners to explain about the problem.
Veterinarian Jobs Prospects :
As Veterinarians can contribute to human as well as animal health their career is expected to be excellent in future though income for vets differ by location.
Some veterinarians work with doctors and researchers as they analysis ways to avoid and cure various human illnesses.
Vets working in non scientific places like in clinics, such as public health and research have well-lit offices or laboratories and deal with people rather than animals.
A large proportion of veterinarians had jobs in the vet services industry, while others worked for institutions or colleges and universities, medical or research labs, or the govt.