Career Opportunities in Pharmaceuticals
The career in pharmaceuticals is one of the most desirable to work for worldwide. The pharmaceutical industry is a challenging and rewarding place to work. Can anyone imagine a world with no cure for common diseases like fever, diabetes without antibiotics. Pharmaceuticals is like a boon to humankind and it is also one of the fastest growing industries in the world. Seeking career in Pharmaceuticals means contributing towards a better living for human beings.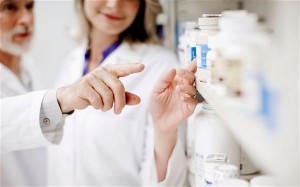 Pharmacy interlinks health sciences and medical sciences. Pharmaceutical job is one of the finest jobs in the world. Liberalization and globalization has also given a boost to this industry in India. Pharmaceuticals? is the leading science based Research and Development industry of India and its low cost of research over the Western countries has given it a potential advantage for future developments.
Pharmacists are not doctors or practitioners but they perform the role of associated health professionals to emphasize the efficient use of medication.? There are many different types of positions in the pharmaceutical industry if interested in working with pharmaceuticals.
Higher levels of education are the norm in Pharmaceuticals. Pharmacy technicians are the most basic jobs in pharmacy. A technician creates prescription labels, counts and dispenses medication, measures, weighs, and mixes medications, and selects prescription containers. They interact with doctors, surgeons, and nurses who have ordered prescriptions, as well as with patients.
There is a job that is perfect for your strengths and specializations. Responsibilities depend on the size and culture of the organisation, with greater sub specialization in larger companies. The job opportunities that pharmacy courses offer are as follows:
Pharmacist
Drug Therapist
Hospital Drug Coordinator
Health Inspector
Preparing Prescription to Patients
Drug Inspector
Chemical / Drug Technician
Research Officer
Pathological Lab.
R&D
Scientist
Bio-tech Industries
Pharmacy technician positions generally require an associate's or bachelor's degree in pharmacy.
To take up a career in Pharmaceuticals, one need to possess skills like Strong math skills, a knowledge of biology and pharmacology, a willingness to work with others and a dedication to customer satisfaction.
Earlier there was no degree or course in Pharmacy to make a career in Pharmaceutical, but now one has to opt for D. Pharma or B. Pharma after completion of the 12th standard to become a Pharmacist.
Students have to appear in entrance tests conducted by the state or central universities in order to do this course. D.Pharma is a two-year diploma course in pharmacy. While B.Pharma is a four-year degree course in Pharmacy. After B.Pharma students can go for M.Pharma and then for the post doctorate degree in Pharmacy.
Recently, Indian government has allowed 100% FDI in the drugs and pharmaceutical sector that has also facilitated foreign Pharma players to move to India and induce Indian Pharma market to attain global standards. More and more people are now looking for a promising career in pharmaceuticals.