Dressing for Job Interview
To get ahead and stay ahead in any career, pay attention to your workplace image as it is a powerful communicator.? The nonverbal messages your image sends can work in your behalf, or they can work against you.? Your clothing is a primary component of your image and is a potent communicator. Your apparel can signal that you are a leader with winning potential, or it can scream that you?re a loser.? If your clothing is waving the loser flag, you have to work extra hard to command respect and inspire trust.
That?s why it?s always important to dress professionally for a job interview, even if the work environment is casual. Remember, you are marketing a product ? yourself ? to a potential employer, and the first thing the employer sees when greeting you is your attire; thus, you must make every effort to have the proper dress for the type of job you are seeking.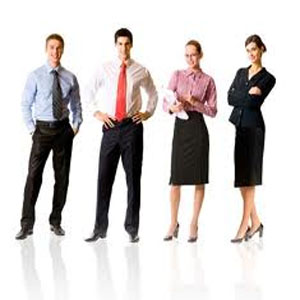 Here are some common pointers to dress for any type of work situation:
First and foremost, no matter what you wear, your clothes should be neat and clean.
Keep your shoes in good condition. Polish your shoes.
Nails should be clean and neat and of reasonable length.
Dress for the job you want. If you aspire to be a manager, dress like managers in your company do.
Familiarize yourself with the universal dress code. Find out what current employees wear on the job.
Before you even think about going on an interview, make sure you have appropriate interview attire and everything fits correctly.
Get your clothes ready the night before, so you don?t have to spend time getting them ready on the day of the interview.
If your clothes are dry clean only, take them to the cleaners after an interview, so they are ready for next time.
Bring a breath mint and use it before you enter the building
Dressing for a Job Interview ? Men
Go in a suit and tie to any company that?s part of a more formal industry, such as banking or law Choose a basic black, dark gray or dark navy suit, a matching tie and black leather lace-up shoes
Avoid too much cologne or aftershave that may overpower the interviewer
Dress in casual attire for a company that you know doesn?t expect suits. Pressed khakis or slacks, a clean, ironed button-down shirt, a belt and a leather loafer serve well. Match the belt to the color of your shoes. Choose black if your outfit consists of dark grey, navy, brown or black. Opt for dark brown if you?ll be wearing tans, muted pastels or medium toned colors Polish or clean your shoes the night before your interview. Scuff marks on your shoes reveal a lack of forethought and attention to detail.
Keep interview accessories professional. Take a briefcase or nice leather- or vinyl-bound portfolio to carry references or other pertinent documents. Leave tattered manila folders or college logo folders at home.
Dressing for a Job Interview ? Tips for Women .
Consider the job?s location. and dress accordingly at a corporate office, wear a conservative business suit. A pantsuit with a sweater or blouse is appropriate for an informal office.
Limit your jewelry (no dangling earrings or arms full of bracelets) No jewelry is better than cheap jewelry.
Have a Professional hairstyle with Light make-up and perfume.
Avoid miniskirts, tight sweaters, sloppy overalls and sandals with straps.
Check your outfit for holes, tears, stains, scuffs or wrinkles.
Choose between closed-toe shoes, pumps and loafers. If you are wearing a skirt, nylons are a must.