How to do Link Building
Search Engine Optimization or SEO Concentrates in 2 distinct Areas the first being On-page optimization and the second, off-page optimization. On-page optimization is what you can actually do to your website that will affect your ranking on the search engines.
Link building is getting other sites to link back to your own website. solid link building campaign has the potential to have a high return on investment. Because of the importance of links in today's search algorithms, businesses and individuals should not take choosing a link building service lightly.
Like everything else in the world, links have varying degrees of quality, you get really poor quality links which can actually harm your website or you can get excellent links which will help your rankings tremendously. Obviously, the best quality links are the hardest to obtain. The best way to generate link Building are links that come from Universities or Government websites. Search Engines love these links and if you do manage to get one your website will almost certainly help get your website on to the first page within a couple of months.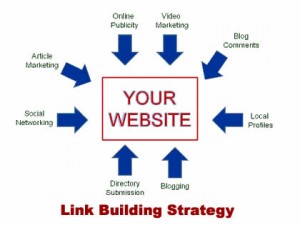 Why Are Links Important?
To put it simple a link is a vote. Every link pointing to your site from another website tells the search engines that the other site finds your resource valuable and thus, the search engines read this as a vote for your web site.
Mistakes You Should Avoid when you do Link Building
Don?t misuse your money and waste your valuable time. Here is a list of the few major mistakes that you should avoid in link building.
Focus on Quality rather than Quantity If you are looking for healthy amount of incoming links rather qualified ones, you should focus on getting quality and qualified links. Don't go for amount, it's the quality of incoming links that will help to bring your website to fist page.
Purchase Bulk Links: Search engines become very intelligent these days, you can't make them fool by purchasing bulk links, because search engine check your incoming links frequency as well with time. So it is advisable to no to purchase bulk links.
Paid Links😕 Paid links can be very healthy but if they are used as a part of the strategy, I if you have no idea of how many paid links you are going to have, that can create big upset in your overall link building campaign.
Reciprocal Links: Link exchange or reciprocal links should be avoided specially after Google big daddy update.
The worst types of links are back links that come from Porn Sites, Pharma Sites or Gambling Sites. ?If you don't check and balance your listings periodically, you may lose your hard gain incoming links. A good mix of links is always good, try not to buy too many "cheap & Cheerful" links as these will not do your site much good.
Ways people Build links for Websites:
Buying Links, Asking Links, Link Exchanges, Registering with Directories, Writing Articles. Writing Press Releases, Viral marketing.
Important Fields for any Link Building Campaign are
1. URL
2. Direct Link (Direct Link of Submission or Registration)
3. Industry Type (Show Biz, Construction, Telecommunication…)
4. Link Type (One Way, Reciprocal, Paid)
5. Link Style (Anchor link, Title Hyper Link, URL Link, Vote Link)
6. Link Period (1 Year or Life time)
7. Page Rank (1, 2, 3…10)
8. Title Limit (Characters Limit)
9. Description Limit (Characters Limit)
10. Keywords Limit (Characters Limit)
The basic factors that affect a link's value to your website are:
The site strength – the strength of the site that is pointing to yours is a significant factor in the valuation of links. If a site with a Page Rank 8 links to your site, this vote is worth significantly more than a link from a Page Rank 3 site. This is because a Page Rank 8 site is, in Google's eyes, a more important site than the Page Rank 3 site.
Relevance – The relevance of a web site linking to you is, if anything, more important than a site's strength.
Anchor text – The actual text used to link to your site is extremely important. Extremely strong sites get beaten out by weak ones simply due to the poor use of anchor test. If you're building links to your site be sure to include your keywords in the text that links back and, if possible, the exact phrase you are trying to rank for. At the same time, you can't make all your anchor text exactly the same.
Position – The position of a link on a web page and the number of other links on that page impacts the value of a link. A link in the footer of a page is given less weight than a link near the top, a link in the content of a page is given more weight than a link in a list of links and a link on a page with 100 other links is given less weight than a link on a page with only a few other links.
From search engine perspective the more it appears that a web site wants a link to be clicked on, the higher the weight that link (or vote) is given.
Article by SEO Trainer D Hari Babu