How to Prepare for MAT
Management Aptitude Test (MAT) is the entrance exam for admission to MBA conducted by AIMA (All India Management Association) four times in a year. MAT caters to middle and lower level institutes. Students from different background like science, arts, engineering, medicine, and architecture can attend this Mat entrance exam and pursue a career in Management.
Candidates who got through in MAT management entrance exam can get admission into a very large number of different management institutes in India and get placement even outside the country. So MAT is very popular among the management candidates and the Indian government has approved MAT as a National Entrance Test for admission to MBA and equivalent programmes.
MAT exam is an objective type with multiple choice answers which includes Reading Comprehension, Data Interpretation/Data sufficiency
Quantitative Aptitude, Logical and Critical reasoning and General Awareness.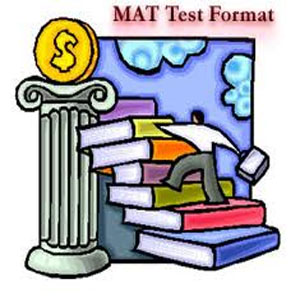 Tips for MAT Preparation:
Everyone has their own learning methods so they simply have to follow a step by step procedure of starting their preparation as early as possible and do more and more practice to get an idea of type of questions by devoting their valuable time.
The MAT aspirants should prepare a time table and allot time to each section to cover all sections while preparing for MAT exam.
First thing for MAT exam preparation the candidates have a clear basic maths Concepts from 1oth standard text books or from some study material provided by an coaching institute. They must learn as many formulas as possible and find some shortcuts.
Revision is the most important aspect which makes to practice a lot for the candidates preparing for MAT exam. By solving more and more sets of questions within a time frame makes them to evaluate their mistakes and analyze the concepts again.
Vocabulary must be improved by reading a lot and observing how a word in used in different contexts by developing a habit ofreading newspapers and Magazines.
The best way to prepare for MAT exam is by taking more and more mock test since MAT has many objective questions. Through MAT test it is possible for the candidates to practice a lot model test papers and work on speed and accuracy which helps to analyze the weak sections.
Since the format of the MAT question paper changes year and year so the? candidates should not be sure of the format and hence preparing and going into an exam with a fixed mind set does not help a lot.
The candidates while preparation time itself should make a habit of solving first few questions correctly which improves the confidence level for rest of the paper.? Try to solve General awareness questions at the end rather than at the beginning because it may take time and may not be sure of exact answers.
If the candidate is very good at guessing then try to answer every question, even if clueless about how to approach it. It is better way instead of wasting of time on a problem solving which takes lots of procedures and are not able to solve, since some questions will be extremely difficult to solve.
The Reasoning section requires lots of practice of all types of questions as there are no fixed formulae to begin with and solve them. So more practicing makes efficient in solving the questions.