Job Interview Tips
Preparation and confidence are very important tips. Before attending an interview we need to be well prepared, you must prepare yourself practically for the interview and gather information which is useful during the interview. Preparations means not only preparation of your syllabus etc. but also look at the company?s website and learn something about the company before you attend your interview. People say that luck is what happens when preparation meets opportunity. The interview is your opportunity.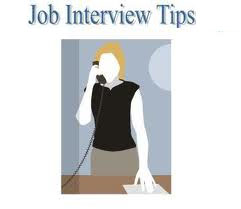 Checklist before attending an interview.
* When you are called for an interview you have to confirm about the date, time, and location of the interview.
* Be on time, you have to plan to be earlier than half an hour before the interview schedule time. And if you are going to be late, then best option is call them.
* You have to wear professional dress. Get your hair cut and styled, No gum, cigarette smell, heavy scents.
* Concentrate on the interview at the interview
* On arrival ensure that receptionist knows you are present.
* Your interview letter must be with you.
* If you are asked to bring certificates, references etc, get them ready before the day of interview.
* Always keep in mind that you never get a second chance to make a first impression.
* Collect sample questions on job interview.
* You can sign up to do a mock interview with a career counselor.
* Get a good night's sleep before your interview so you'll be as psychologically physically and emotionally ready for interview as possible.
* Carry additional resumes for distribution to department heads, search committees, and others you may meet who have not seen your resume.
* Employers typically require references. Get permission before using anyone as a reference. Make sure that they will give you a good reference. Try to avoid using relatives as references.
* If you have to do a formal presentation, be well prepared.
* PRACTICE, PRACTICE, PRACTICE, In front of a mirror or with an audience of friends or colleagues.
Points to remember during interview.
* Good smile always please people. Smile is one of the things which may matter in your impression during interview.
* Do not forget for firm handshake.
* Eye contact without glaring shows your confidence.
* Be ready to briefly describe your experience, showing how it relates it the job.
* During interview time do not talk too much
* don't interrupt to interviewer when he/she is talking
* Always remember that communication is two-way
* Avoid sounding as though you assume the job is yours.
* It is fine to ask about the package on offer and accommodation
* It is important to listen to the question asked and answer that question.
* At some point during your interview, you'll be asked whether you have any questions. Asking questions demonstrate your level of interest in the job, so be prepared with questions to ask, and jot some down during the interview. Your ability to ask straightforward, insightful questions lets the interviewer understand your perspective and concerns, as well as your judgment and analytical ability.
* you need to learn how to close your interview to win the job
* Be ready to support past career accomplishments with specific information targeted towards the company needs, have your facts ready.
* Avoid negative comments about past employers.
* Evaluate/Review your interview's strengths/weaknesses immediately after the interview.Be cooperative and enthusiastic.