Microsoft VS Google
?Microsoft Corp?s assault on search engine leader Google Inc took a major step forward as US and European regulators cleared the software company?s search partnership with Yahoo Inc.
The 10-year deal, struck last July, is the biggest effort yet by Microsoft to establish an online business to rival Google, an area where Microsoft has lost $5 billion over the last four years.
Microsoft has already made some progress with its search engine, Bing, picking up 3.3 points of market share since its launch last June. But Bing is not likely to ?push Google off a very big pedestal any time soon?.
The battle for online search ads is only one front on a sprawling war for revenue between Microsoft and Google, which also encompasses operating systems and mobile phones. But neither has yet managed to compete on equal terms in each other?s core market.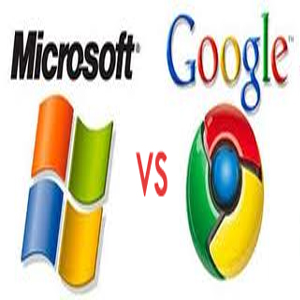 ?In terms of our modeling, we really don?t see any impact from Microsoft-Yahoo on our Google numbers,?.
?It doesn?t change much in terms of the competitive dynamics of the industry right away,? he warned. ?From a Google perspective, looking out over the next couple of years, it?s a nonevent.?
The deal, cleared unconditionally by the US Department of Justice and the European Commission on Thursday, is not expected to impact Microsoft?s bottom line, but could lay the foundation of a profitable online business.
Microsoft shares rose 1.2 per cent and Yahoo?s rose 0.7 per cent on NASDAQ, in a broadly higher tech market.
The Justice Department?s Antitrust Division said the deal was unlikely to substantially lessen competition.
Google, which did not oppose the partnership, did not comment specifically on the regulatory approval but said that there has always been ?robust? competition in the search ad business. Its shares rose 1.1 per cent.
HOW IT WORKS
The deal means Bing becomes the search engine for Microsoft and Yahoo sites, while Yahoo focuses on attracting big advertisers.
Microsoft will handle the automated auction of search ads for use on both companies sites, and pay Yahoo a portion of search ad sales generated on Yahoo pages.
Microsoft is hoping that by making itself a single conduit for advertisers to access customers on both sites, it will become a credible alternative to Google.
Last month Yahoo handled 17 per cent of US Internet searches, while Microsoft took 11.3 per cent, according to com Score. Theoretically, that would now give Microsoft over 28 per cent of search traffic, against Google?s 65.4 per cent.
Globally, Google is even more dominant, with 90 per cent of the search market compared with 7.4 per cent for a combined Yahoo and Bing, according to November data from Web research firm Stat Counter.
The Microsoft-Yahoo deal was broadly expected to gain approval, but some had thought the companies might have to alter the deal?s terms.
The partnership took months to hammer out last year. It followed Microsoft?s aborted $47.5 billion Yahoo takeover attempt the year before. Google abandoned its own advertising deal with Yahoo in 2008, which Microsoft opposed, under pressure from the US Justice Department.
Approval means Microsoft can begin the task of putting its Bing search engine into Yahoo sites. Neither company has laid out exactly how Yahoo?s new search pages will look, but they will essentially be Bing searches with some customization of results by Yahoo.
The companies aim to get the partnership fully operational in the United States by the end of this year, with the transition of advertisers taking place before the holiday shopping season, if possible. The partnership should be globally complete by early 2012.
The deal had already been cleared by regulators in Australia, Brazil and Canada, but needed US and European approval to take effect. The companies said they are still working with regulators in Korea, Taiwan and Japan.