Tips for preventing Dandruff
The flaking of the skin on the scalp in response to inflammation is referred to as Dandruff which became a common problem these days. The source of the inflammation can be allergies to cosmetic products, stress, overproduction of oil from the scalp's glands, or overexposure to high heat or extreme cold. It is not necessary to spend a lot of money if you want to keep your hair healthy and beautiful.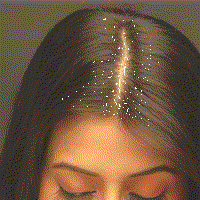 A scalp that is oily can become irritated due to congested pores and a buildup of both oils and skin cells that shed irregularly especially in people who have greasy skin and hair.
1. Keeping the scalp healthy through diet is another important preventive measure for dandruff. Include all different kinds of food items that are not overly cooked, canned, processed or preserved in your diet. Eat balanced diet which includes plenty of zinc, Omega-3 fatty acids, and B-vitamin, and avoid excessive yeast and sugar. Also drink lot of water daily for the health of your skin
2. People who have dandruff should prevent hair styling products and choose products that are alcohol-free. Ingredients in products that are heavily scented, and alcohol can dry out the scalp skin, creating itching and flaking. Using hairsprays, gels and mousses that build up on the scalp can make the skin and hair more oily, which is another cause of dandruff.
3. An important tip for preventing dandruff is exposing the hair and scalp to sunlight. But overexposure to the sun can cause skin damage and heightens the risk of skin cancer, so sun protection is important to remember.
4. Don?t ever use combs that are used by dandruff affected person as it is a contagious condition.
5. Don't stock up to only one antidandruff shampoo. Try out different shampoos that works for you. Choose a dandruff fighting shampoo that is mild but contains active ingredients that help get rid of dandruff. There are a variety of anti-dandruff shampoos available at your pharmaceutics. While anti-dandruff shampoos may produce results after a few uses, it can take a week or two to see the difference.
6. If applying natural products, give some time in observing the results because natural treatments take time. Some of the natural treatments are mentioned that works effectively in prevention of dandruff.
1. Mix water and vinegar and apply it on your scalp.
2. Apply lukewarm coconut oil on your scalp with the help of cotton ball and leave it overnight. In the morning apply lemon juice on it. Leave it for 30 minutes and then wash your hair as usual.
3. Massage gently on your scalp by mixing olive oil with almond oil and leave it for five minutes and then wash your hair.
4. Mix Shikakai powders with the water drained from the cooked rice and wash the hair with it.
5. Use a teaspoon of fresh lime juice for the last rinse, while washing the hair. This not only leaves the hair glowing but also removes stickiness and prevents dandruff.
6. Egg Pack for Dandruff: Beat two eggs and add two tablespoons of water to it. Wet the hair and apply the egg mixture over the hair. Now massage your scalp and let the mixture on for ten minutes to fifteen minutes. Then rinse the hair with lukewarm water. This will keep both dandruff and hair fall problem away from you.
7. If there are symptoms of too much redness, swelling or if the flakes are covered with a sticky liquid or if there is a wound & there is a hard covering of blood around it, chances are that it could be another scalp disease which needs immediate attention. If the itching in the scalp still persists and if there are signs of redness & irritation, its time to schedule an appointment with your dermatologist.
Be care full when treating or trying to prevent dandruff, do not think that it is a disease that has to be treated and it will get cured.
Save
Save