Top 15 job interview questions
Top 15 job interview questions
Are you attending for interview then read these most commonly asked job interview questions compiled by Tips on interview. By rehearsing these 15 job interview questions mentioned below will help you to land in the right job.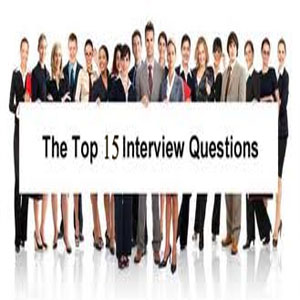 Can you say some thing about yourself?
How do you know about our company? What knowledge do you have about this company?
Why do you want to leave your previous job? Are you still working in the same company?
How do you spend your spare time?
Why do you want to work for our organization?
What are your major strengths and weaknesses?
How long do you see yourself working in our company? How do you see yourself growing with our company?
?what are your salary expectations?
?Did you receive any award or credit for the project you handled in your school or your previous company?
?How did you come to know about this interview?
?What fresh qualities, abilities and skills would you bring to this job?
?What is the toughest assignment you handled at your previous job?
What it was and how did you handle it?
?Tell me about a time that you failed at something, and what you did afterwards.
?Are there any questions you would like to ask us?
?How long do you plan to stay at our company? Where do you see yourself in five years?
Keep a goal to persuade the employer that you have required skills, background and ability to do the job and can comfortably fit into the organization you are attending the interview. Don't forget to write a brief ?Thank You? note to the person or people who interviewed you. You may be the only candidate who performed this small courtesy!