Website Keyword Suggestions Tools:
Website Keyword Suggestions Tools can help you to see how search engines determine the theme of a web site and what keywords fit into this theme. We can try Google?s Keyword Tool to get more suggestions about which keywords are hot to use.
Before choosing particular keyword or keywords or key phrase to optimize for Google or any search engine, we need to see relevancy of keyword to our web site and the expected monthly number of searches for this particular keyword or keywords or key phrase.
Some times narrow searches are more valuable because the users that come to our site are those that are really interested in our service or product. If we go on with the temples example, we might discover that the ?festivals in India? key phrase also brings us more visitors because we have a special section on our web site where we give information or list of festivals in Andhra Pradesh.? This page is not of interest for current visitors for temples but potentially attracting this niche can be better than attracting everybody who is interested in temples in general. So when we look at the number of search hits per month consider the unique hits that fit the theme of the website.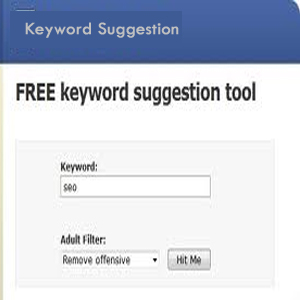 Effective Keyword Choice Strategy and Useful Tools.
The search engines will know the Web site theme while "crawling" the site pages; this is where the keyword power needs to be utilized. One correctly targeted keyword will produce a better overall search engine ranking than keywords just generally placed.? The presence of that keyword placed strategically across the site is a factor in determining whether or not?the web site is ranked high in a search on sites like GOOGLE, YAHOO and MSN. Many users will type broader search criteria into the search engines if they are uncertain of exactly what they seek. We should try to establish what keywords are most used in the context of the web site content and theme. Choosing keywords?depend on the target audience's needs, and what keywords they will use to locate sites.
Keywords will be relevant words and parts of phrases that relate to the site content.
So what kinds of keywords should we use?
For example: if you have a site that focuses on mobile phones,?When any person is not aware of model and service provider and if he is searching for information like what are the best mobile deals available at present?
Some keywords might be "mobile, mobile phone, phone tariffs, cellular," etc. If the user wants to find mobile phone sites that host budget phones, he or she may type the keywords mentioned above.
If it is a movie information site, keywords could be "movies, film, movie, films, horror movies, Horror, sci-fi, action, cinema"
This positioning and choice of keywords is crucial for a site towards SEO optimization.
Seeing? in Overture which of the keywords that are related to our web? site had most searches recently and optimize for those keywords? is wrong because the fact that a particular keyword is often searched does not mean that this alone makes it a worthy target. If the competition for this highly desired keyword is tough, your efforts might be useless.