Career Opportunities in Medical Transcription
Career in medical transcription is a very good opportunity, especially for those who are certified. The Medical Transcription field provides vast employment opportunity for graduates who have very good English knowledge and typing skills.
The trained medical transcriptionists are employed in hospitals, physicians offices, transcription service offices, clinics, laboratories, medical libraries, government medical facilities, or their own homes. Many medical transcriptionists telecommute from home-based offices.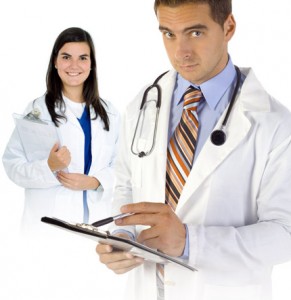 One who wants to career in medical transcription have to pursue postsecondary education at a vocational school, community college or distance learning school. Medical transcription students may either receive a one-year diploma or two-year associate degree upon completion of their education. Coursework includes medical terminology, anatomy and legal health issues and on-the-job training.
The job of Medical transcriptionists is to listen to dictated recordings on a headset made by physicians and other healthcare professionals and transcribe them into medical reports, correspondence, and other administrative material. The documents they produce include discharge summaries, medical history and physical examination reports, operative reports, consultation reports, autopsy reports, diagnostic-imaging studies, progress notes, and referral letters.
Medical transcriptionists return transcribed documents to the physicians or other healthcare professionals who dictated them for review and signature or correction. These documents eventually become part of patients' permanent files.
The career in Medical transcriptionists requires some of the skills to seek the career and get success in this field. They need to have basic Internet browsing skills, English Grammar, Keyboard typing speed, Medical Office Skills etc.
The experienced transcriptionists proofread medical reports to point out errors or discrepancies and to make necessary corrections. To decrease the possibility of patients receiving improper or damaging treatment, transcriptionists must have the ability to comprehend and accurately transcribe assessments of patients.
Further the Medical transcriptionists career can advance to supervisory positions and receive a higher wage for their work.
An additional trend being used is speech recognition technology used by transcriptionists working in areas with regular terminology, such as radiology or pathology. Nevertheless, as technology becomes more advanced, speech recognition technology will become even more popular.
The standard week for several medical transcriptionists is 40 hours. However, those who are self-employed work irregular hours which include part-time, evenings, weekends, or being on-call constantly.
Apart from good career opportunities in Medical transcription, the transcriptionists have to face some risks such as sitting in the same place and position for extended periods of time. They might suffer from problems with backs, wrists, necks, and eyes as a result of strain. They also are in danger of carpal tunnel syndrome which is caused by repetitive motion. Accuracy and production factor into the stress.