Internship Interview Tips
Many students apply for a limited number of internship positions. Whether you are in high school, college or graduate school, participating in internships gives you critical experience for future, full-time employment.
The internship interview is both an opportunity to highlight your suitability for the internship job and an opportunity for you to assess if there is a good fit between the internship and your career and learning goals.? Feel prepared and confident for your internship job search.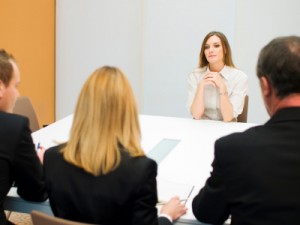 Internships, though usually unpaid, give you real experience in the workplace. Choose an internship that can give you a preview of your selected profession with a company that you see yourself working in after graduation. The interview process is the most important part of securing the internship.
1. Review the job description for the internship. You must fully understand what your potential employer expects you to accomplish during the course of your internship.
2. Bring extra copies of your resume just in case, as well as any physical samples of your work if appropriate.
3. Start by learning as much as you can about the company where you're interviewing. Learn what they do, how they do it, and why they?re a company you should be a part of. Being able to confidently discuss the company where you're interviewing not only shows that you've done your homework, but will help boost your confidence when you're in interview.
4. First impressions count for a lot, so show up on time, offer a firm handshake, have eye contact with your interviewer during interview.
5. Determine which questions the interviewer is most likely to ask. Before you walk into your interview, be sure to think your answers through. Making an actual list is a good way to be thorough, and rehearsing your answers aloud will improve your chance.
6. Be prepared to talk about future career aspirations. The purpose of the internship is to prepare you for the job that you'll have in the future. Think about what you hope to take away from the internship and how that will be able to help you.
7. Be sure to emphasize your best qualities and skills in the interview, and back them up with specific examples.
8. Take the time you need to understand the questions you're asked before answering, and remember that it's okay to ask for clarification.
9. Since you're applying for an internship, employers expect that you might not have a lot of practical experience, so don't have anything to show and don't stress.? If they want to see what you can do, they'll give you an assignment. If you are asked to prove yourself before you're hired, don't underestimate the importance of such projects – sometimes they can make or break your chances of being hired.
10. Although you may be interviewing for an unpaid internship, treat the interview like you would any other job interview. Smile and sit up straight. Act in a professional manner. Talk about your experience and what you're learning in school as it applies to the internship. After all, the company may want to hire you as a full-time employee after the internship is complete.
11. When the interview is done, you can thank the employer again for their time and let them know that you will be following up. Follow up with a thank you note to everyone with whom you spoke, in the mail the next day.