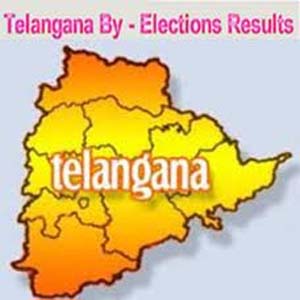 Telangana By Poll Results
All VOTES LEADS TO TELANGANA (TRS)
Siddipeta-Harish Rao? (TRS )? Won with Margin of Victory? By 95,858 Votes.
Nizamabad ? Lakshmi Narayana (BJP) Won By 11,981 Votes.
Dharmapuri -? K Eswar (TRS) Won by 58,854 Votes
Korutla ? Vidyasagar (TRS) Won by Margin of Victory of 53,031 Votes.
Sirpur -? Sammayya (TRS)? won by 15,229 Votes.
Chennuru -? Nallala Odelu (TRS)? won by 44,284 Votes.
Warangal ? V Bhaskar (TRS) Won by Marrgin of Victory by 67,809 Votes.
Manchiryala (TRS) Aravind Reddy won By 74,676 Votes.
Vemulavada (TRS) Ch Ramesh won By 50,443 Votes.
The BJP candidate from the Nizamabad Urban constituency, Y Lakshminaryana, captured the seat by defeating his rival PCC president D Srinivas with a margin of 11,981 votes.
The Chennur seat was retained by the TRS candidate Nallala Odelu, with 44,284 votes being the difference.
Highlights:
11/11 Victory for TRS in election results.
TRS Harish Rao Crossed YSR Record
PCC President D Srinivas Lost In Telangana By-polls