Career opportunities in Architecture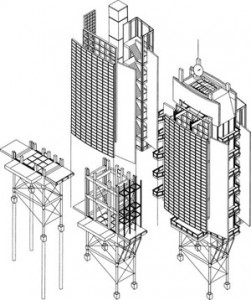 Architects design buildings and other structures. Architecture is an art and a science that involves many talents and skills. Employment of architects is projected to grow faster. It is described as the design of the human environment, mostly buildings, groups of buildings and often the spaces between the buildings.
Students who study architecture in college may go on to become licensed architects, or they can apply their learning to a related profession. Because an Architect?s skills and training are so broad, there are also many opportunities outside mainstream architecture and can practice in :
??? Urban design
Project management
Construction management
Interior design
Furniture design
Theatre design
Industrial design
Advertising Designer
Architectural Engineer
Architectural Writer or Journalist
Art Director
Architectural professionals serve clients, who might need buildings for themselves, or who could represent users. The work starts on the basis of ideas and requirements of the client like its appearance, financial budget and time frame. The architect then begins his job with sketching and making plans with details of sizes, specification and estimates of the cost of the structure.
A good architect is the one who strikes a right balance between aesthetics and practicality. Should be a creative artist, ability to sketch, free hand plan to explain the clients the very intricate details of the structure. Should possess an imaginative and perspective outlook. Awareness of social and environmental factors, observant attitude, good mathematical ability, building economies and cost estimations, good communication skills, high concentration level, flexibility, patience, team spirit and responsibility.
Students having academically good background in physics and mathematics are eligible for the study of architecture. Students who have pursued 10+2 level in Physics, Mathematics and Chemistry can apply for admission into career in architecture at the graduate level.
There are three types of professional degrees in architecture.
B. Arch is a 5 year course and most schools and colleges select students through a written test.
2-year Master of Architecture programs for students with a pre professional undergraduate degree in architecture or a related area.
3 or 4-year Master of Architecture programs offered to students with degrees in other disciplines
If architects gain career-related experience in an architectural firm while still in school then they can increase the chances of getting an internship after graduation.? A licensed architect, after gaining experience, may take on increasingly responsible duties and eventual managing entire projects. Architects may advance to supervisory or managerial positions in large firms. Some become partners in established firms while others set up their own practices.
Employment opportunities for architects are available in government as well as private sectors. Some of the government organisations include Public Works Department, the Archaeological Department, Ministry of Defence, Departments of Railways, Post and Telegraphs, Public Sector Undertakings, National Building Organisation, Town and Country Planning Organisation etc.
The private sector exist with the Builders, Architecture Firms, Consultants etc. Architects with some experience can even set up their own business as Consultants and Contractors.
To become self employed, you will need the usual office equipment as well as the necessary electronic equipment and draughting software associated with modern architectural practice. You will also need your own transport.