Tips to Improve Interview Skills
1.To be successfull in any interview focus on one industry at a time so that you can become knowledgeable in your specialist area before the interview. To be successfull in any job interview read and subscribe to relevant blogs, trade journals magazines, and newspapers.
2. To be successfull in job interviews use web feed subscription tools such as Google reader to keep up-to-date on industry news.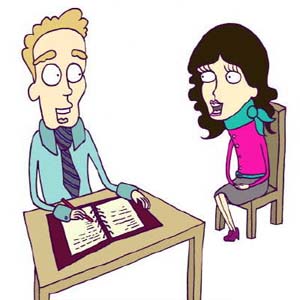 3. Before attending any interview know what impression you want to make. you need to know what added value you can offer to the company if they hire you.
4. Know your competences and transferable skills this will dramatically improve your CV. Competences are the specific skills which are needed to perform the job and are usually outlined in the job application pack or advertisement. Transferable skills are your unique skills which you've developed through other jobs and personal interests and can differentiate you from the competition.
5. Be carefull with your social media profile. Before attending any interview check that your social media profile is consistent with your CV profile as many employers now check out applicants online to know more information about you. For example, Orkut, Facebook, Twitter and Linked-in Social networks can also be used effectively to network for work opportunities.
5. Work as a volunteer, You can use the experience to broaden your skills and demonstrate self-motivation.
6. Join a local business or social network. They offer a great opportunity to practise social skills with strangers such as starting up a conversation, smiling, actively listening to others, asking questions and promoting yourself. These are key interpersonal skills which will improve your confidence in a job interview.
7. Be clear about your career goals and take a step by step approach to achieve your dream job. Learn your personal career barriers and how to overcome them.
8. Improve your self confidence when searching for a job. also improve your communication skills as Communication skills are an essential competence for most jobs so be prepared to interview ten of the most common communication questions before you go to the interview
9. Don't bluff on your CV, Keep your CV relevant and consistent with what they'll discover in an interview. Focus on your competences that match the competences outlined in the job application form.Include transferable skills on your CV as these strengths can give you a competitive edge. Tailor your CV for each job application and use the best format for the job depending on your experience.
10. Prepare answers to interview questions. Draw up a list of interview questions which challenge every claim you've made on your CV. If it says on your CV that you managed a College function. Ask yourself , How did you manage the function ? what did i learn from that event. Acknowledge a genuine weakness or failure? if any in a project.
11. Be well prepared for questions asked such as 'Why do you want to work for us?' and 'What will you be doing in 3 years time?
12. Be prepared to ask questions to the interviewer otherwise it looks like you're not interested in the job. For example ask, 'How will my performance be measured?', How will you know if I'm doing well?', 'Are there any aspects of my application where you need further evidence? .
13. Know how to dress for an interview. Spend some time on personal grooming on the day of the interview. This will help you feel more confident and relaxed.
14. Practise your answers to the questions and Video yourself in a mock interview. This will help you to check your body language. Maintain good Eye contact with the interviewer.
15. Double check all interview arrangements a day before the interview.
16. On the interview day relax and be cool,? Smile and go in to the interview looking to build up a rapport. Generally it's not your qualifications or experience that will get you the job but what the interviewer thinks of you as a person. Even if you don't get this job, if they like and trust you, they may call you back for another role in Future.
17. Follow up the interview with a short letter saying that you're enthusiastic about being offered this job and determined to demonstrate the contribution you can make to their company. Reinforcing your commitment could help you get your dream job.