Career Opportunities in Physiotherapy
Physiotherapy is a medical science career opportunity used to promote the functions of human body and optimal health. The requirement for larger numbers of physiotherapists are growing at a greater extent now than it has been for some time. There is a greater scope for the career in Physiotherapy profession that permits practitioners to choose an area of specialty. Physiotherapists identify and maximize movement potential through health promotion, preventive healthcare, treatment and rehabilitation.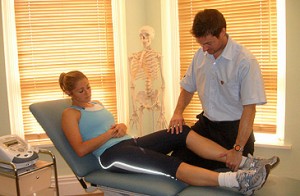 Physiotherapists help and treat people of all ages with physical problems caused by illness, accident or ageing. As experts in movement, physiotherapists play a key role in promoting, preventing and helping people across their lifespan maintain their health, physical function and lifestyle. Physiotherapy is mainly recommended for the physically challenged people, the people suffering from degenerative disorders like arthritis, neurological disorders and sports persons.
One of the main advantages of seeking career in Physiotherapy is it no side effects as compared to other systems of treatment and hence this profession has become popular in the recent times. A career in physiotherapy combines understanding, expertise and methodology to handle certain physical and mental problems of the patient. Hospitals often have physiotherapy gyms, hydrotherapy and high-tech equipment so that specialist therapy can be carried out.
The main job of Physiotherapists is to trace the roots of these problems to certain conditions of particular parts of the human body such as the brain, nervous system, soft tissues, joints, bones, heart or lungs. When patients have movement disorders, they are usually advised by their physicians to consult a physiotherapist.
The expert Physiotherapists need to have skills such as manual therapy, therapeutic exercise and the application of electro-physical modalities to treat the patients. Since Physiotherapy is a teamwork so a Physiotherapist should be able to build up a rapport with patients,
As opting for the career in Physiotherapy the candidates must be able to encourage, reassure and persuade patients of the ultimate benefits of their treatment.
There is also a need for physiotherapists in many other places such as industry, special schools, private practice, education and Sports.
The eligibility for opting career in Physiotherapy is 10+2 or equivalent examination, with Physics, Chemistry, Biology background for applying into Bachelor of Physiotherapy (BPT) course. And the eligibility for Master of Physiotherapy (MPT) course is to have 50 % marks in BPT with completion of six months internship.
Students need to appear in the entrance exams conducted by the Institutions. For Bachelor of Physiotherapy, students have to appear in the C.E.T exam. This degree course is of 3-4 years. In India, universities offer undergraduate program of physiotherapy with four years of academic and clinical program and 6 months of compulsory internship.
Physiotherapy is a flourishing career option. One may select different fields of Physiotherapy as an employment option. They are employed in the schools for mentally retarded and physically challenged children, defense medical establishments and rehabilitation centers.
Career opportunities in Physiotherapy, physiotherapy career, career in Physiohterapy.